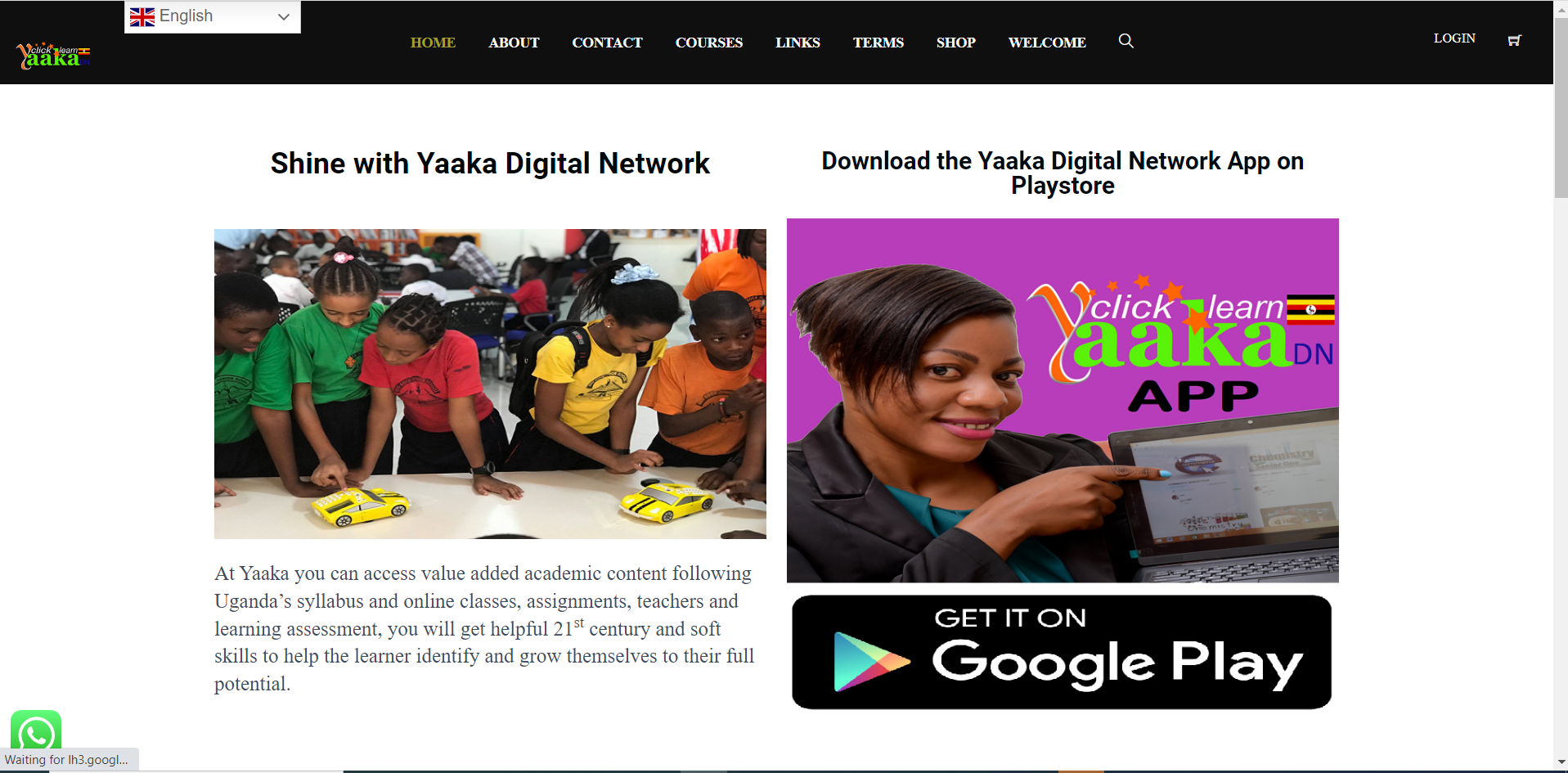 How to Login to Yaaka Digital Network; Yaaka Digital Network is an e-learning platform based in Uganda that provides educational content and resources for learners and teachers. It offers a wide range of digital learning materials, including textbooks, videos, interactive lessons, quizzes, and exams, covering various subjects and levels of education, from primary to tertiary levels.
Yaaka Digital Network aims to improve access to quality education in Uganda and other African countries by leveraging technology to deliver educational content and resources to learners and educators, especially those in underserved communities with limited access to traditional educational resources. The platform is designed to be user-friendly and accessible across different devices, including computers, tablets, and smartphones, allowing learners to access educational content anytime, anywhere, and at their own pace.
Yaaka Digital Network also provides features for educators, such as tools for creating and managing virtual classrooms, tracking student progress, and facilitating communication and collaboration among learners and teachers. The platform also offers teacher training programs and professional development resources to support educators in improving their teaching skills and effectiveness.
One of the notable features of Yaaka Digital Network is its focus on local content and context, with a significant portion of its educational resources tailored to the Ugandan curriculum and educational standards. This makes the platform relevant and aligned with the local educational context, which is a key factor in its adoption and impact in Uganda.
Overall, Yaaka Digital Network is an e-learning platform that aims to democratize access to education in Uganda and beyond, by providing digital learning materials and resources that are accessible, relevant, and aligned with local educational standards.
How to Login to Yaaka Digital Network
Open any browser of your choice such as google chrome, Firefox, Edge etc and type yaaka digital network as seen below then click the first result that shows https://www.yaaka.cc/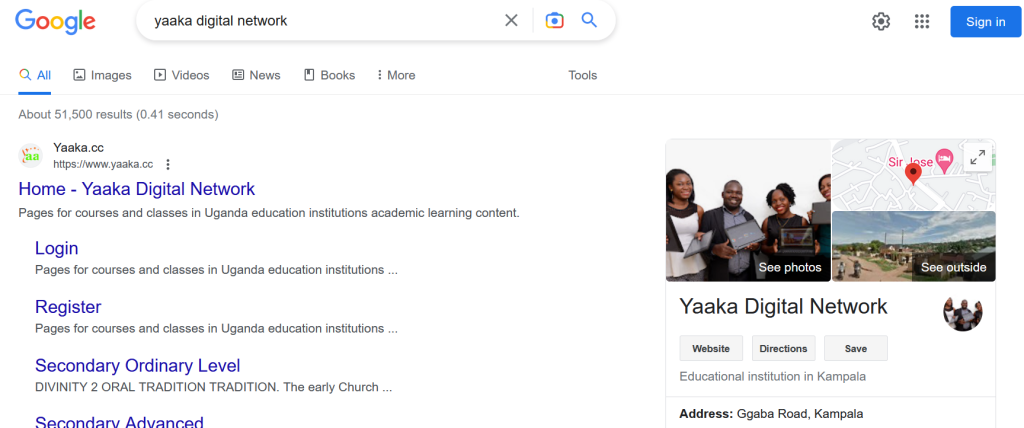 The link https://www.yaaka.cc/ will direct you to the home page of Yaaka Digital Network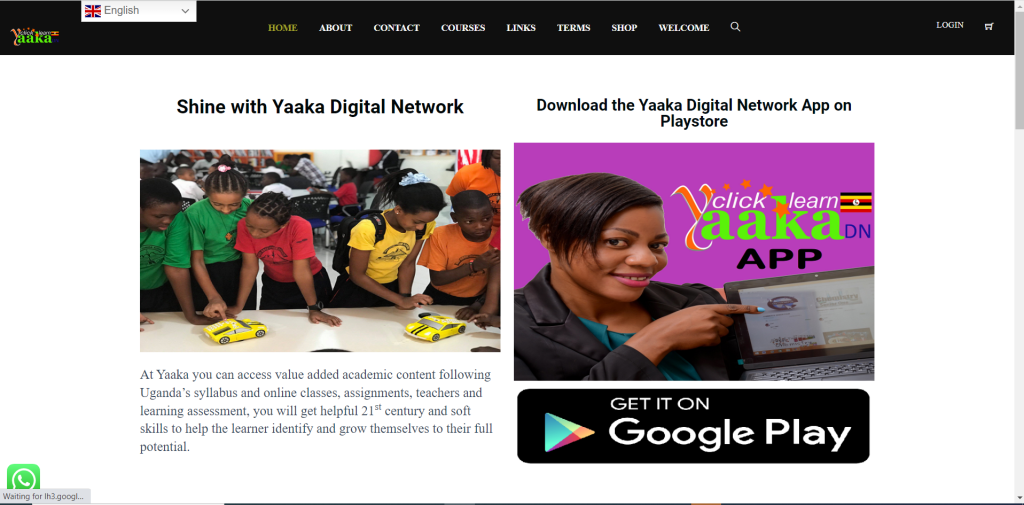 Scroll through to the bottom
How to Login to Yaaka Digital Network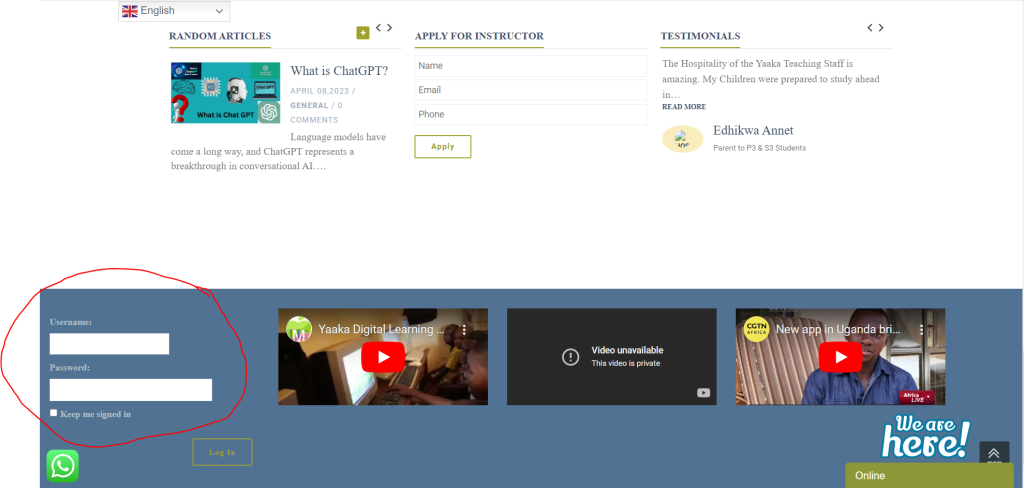 And in the above-circled area enter the username and password you used to create an account. Or in case you changed use that current password
How to Login to Yaaka Digital Network
After entering your login credentials tap login. Then, you will be directed to another screen, that has your Names, ratings etc.
At this point tap on welcome, then the Front End dashboard will appear where you are able to access your courses
Accessing Courses on Yaaka Digital Network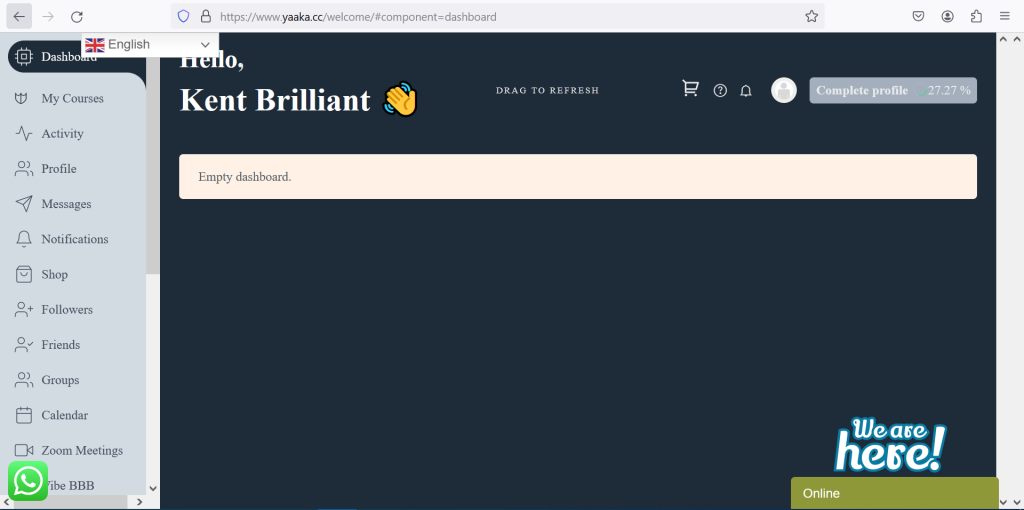 It's always advisable to drag and refresh 3 times on your dashboard before you access your courses. To drag and refresh check out this video.
Then to access your courses tap on My Courses on the Left Panel Menu below the dashboard.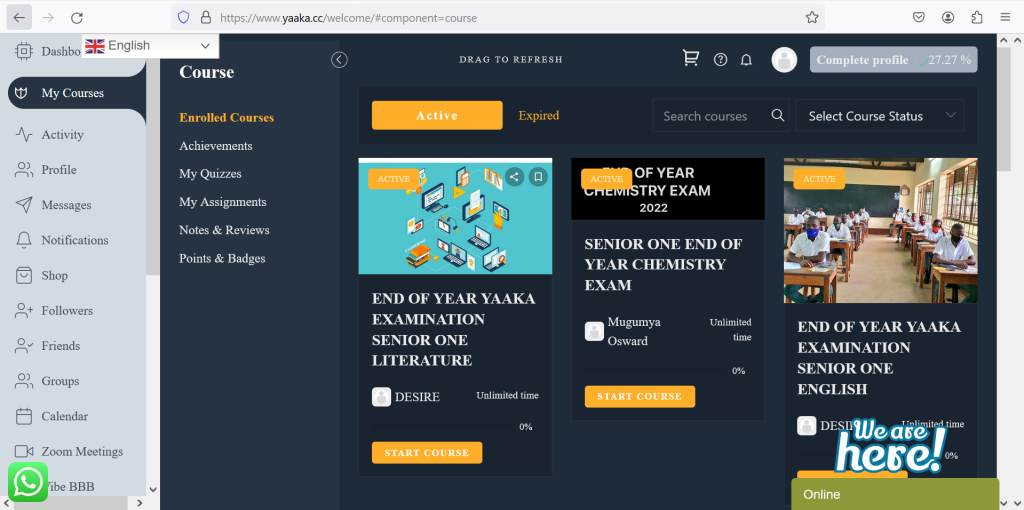 You can scroll through or and pick any course of your choice or and search for your course on the search bar

Tap start course you are start it for the first time or continue course if you are proceeding from where you ended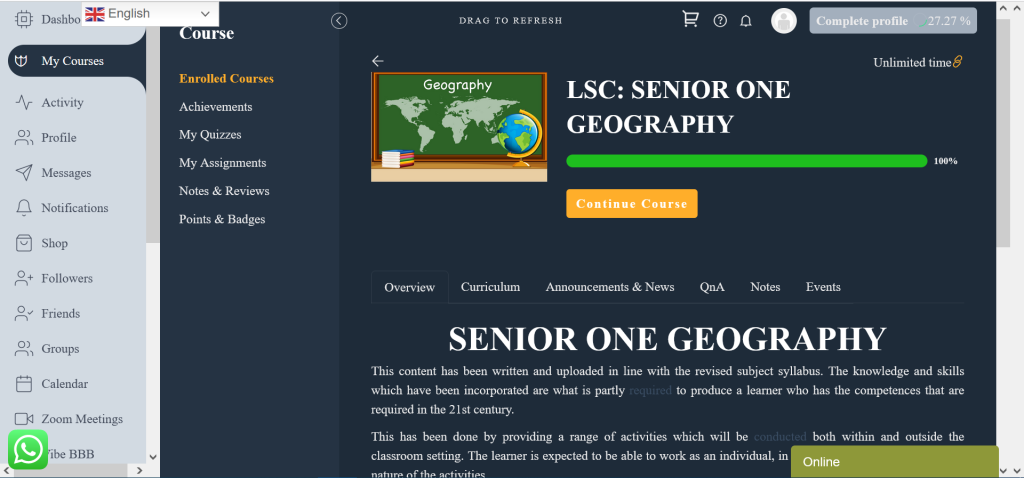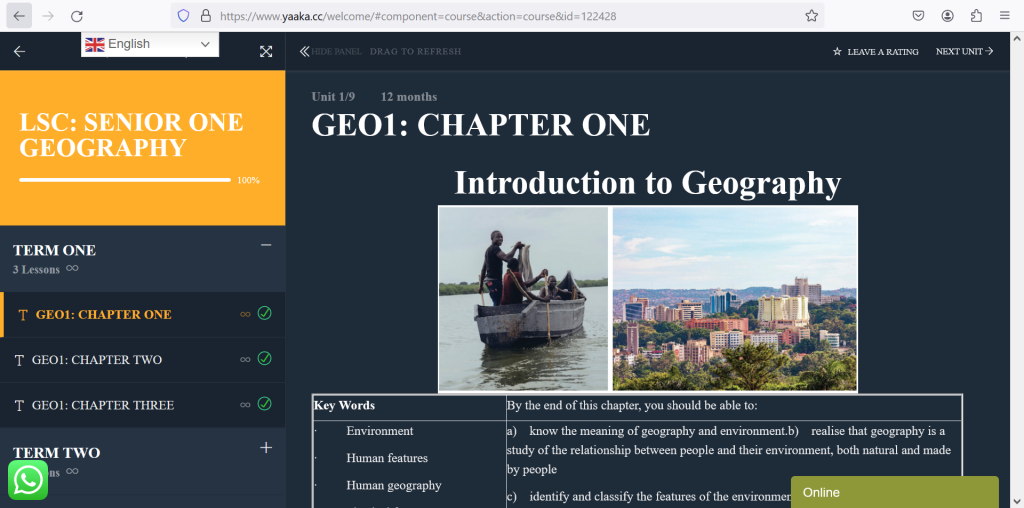 Your content will appear, scroll through as you read text, watch videos, do activities and other interactive Elements.
Attempting Assignments on Yaaka
After going through a unit, at the end of it, you may find an assignment, open it by tapping the plus ➕ on the right side,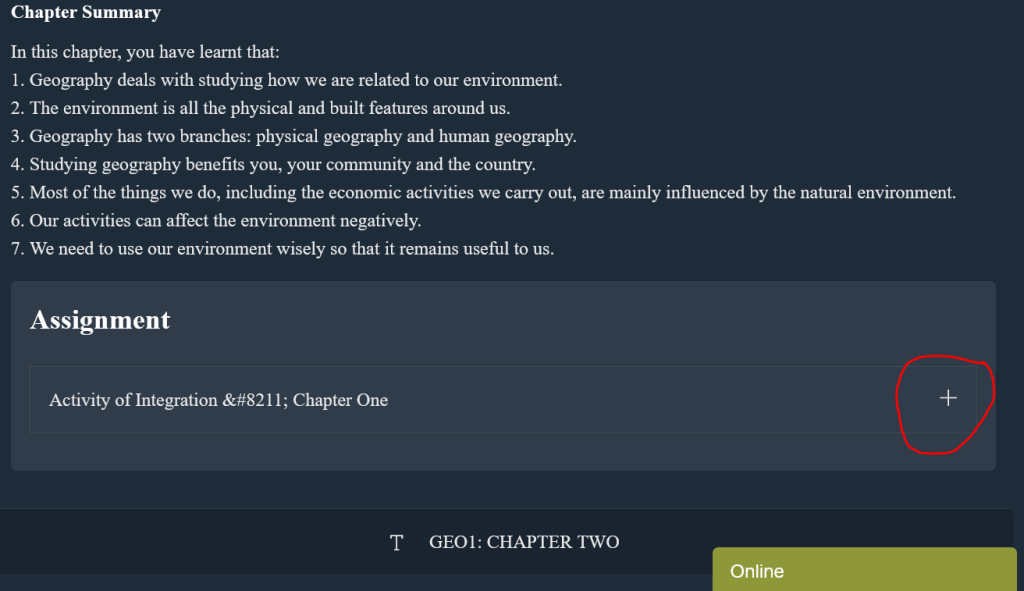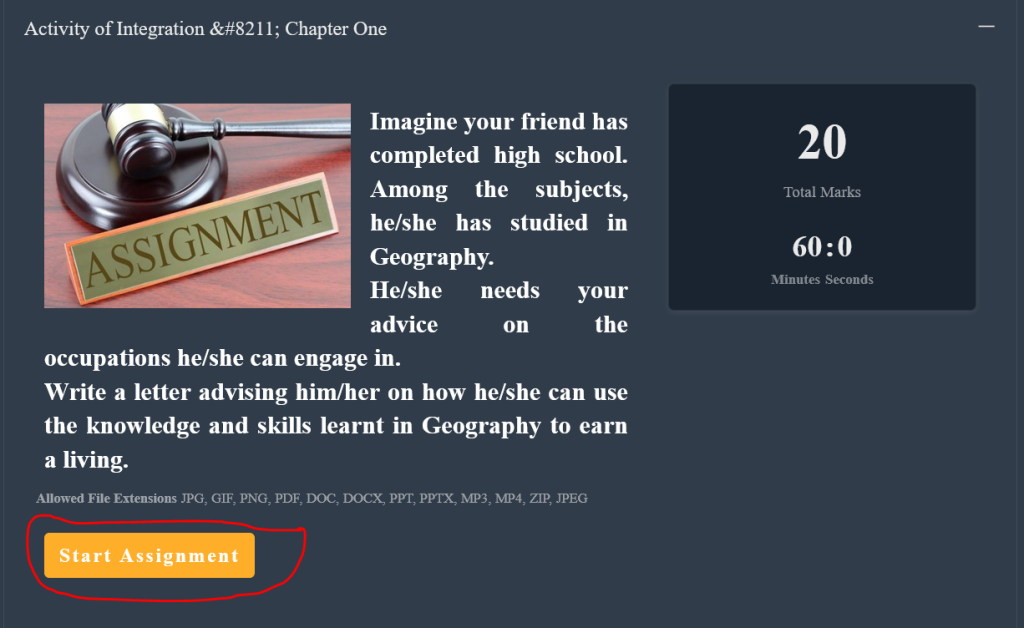 Prepare your assignment answers, basing on the provided "Allowed File Extensions" Like the one shown above. Once your file solutions is ready, tap start Assignment. Browse and Select the File you want to send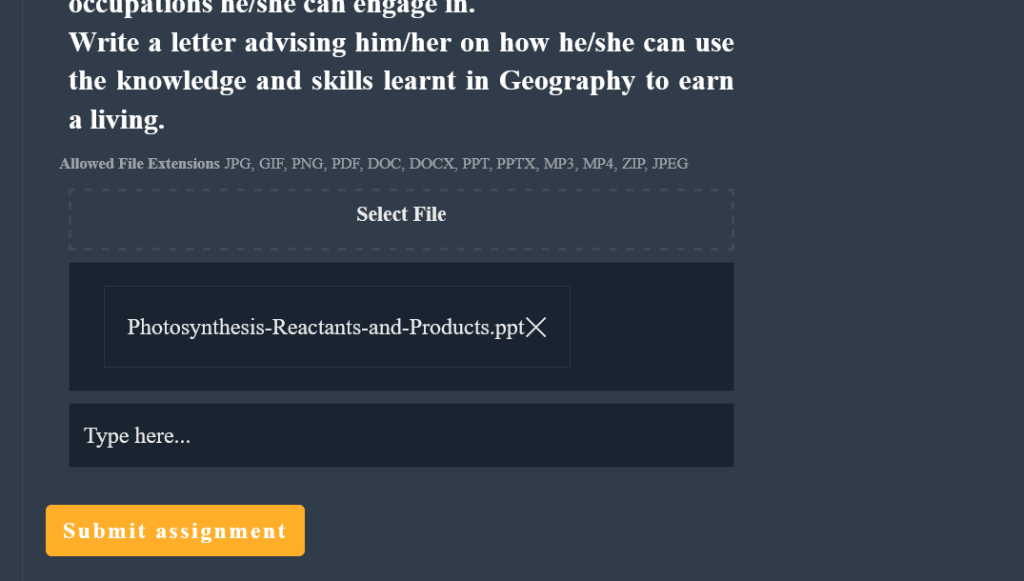 Then finally tap on Submit Assignment. It will show Re-submit meaning your work is ready for review by your instructor/s.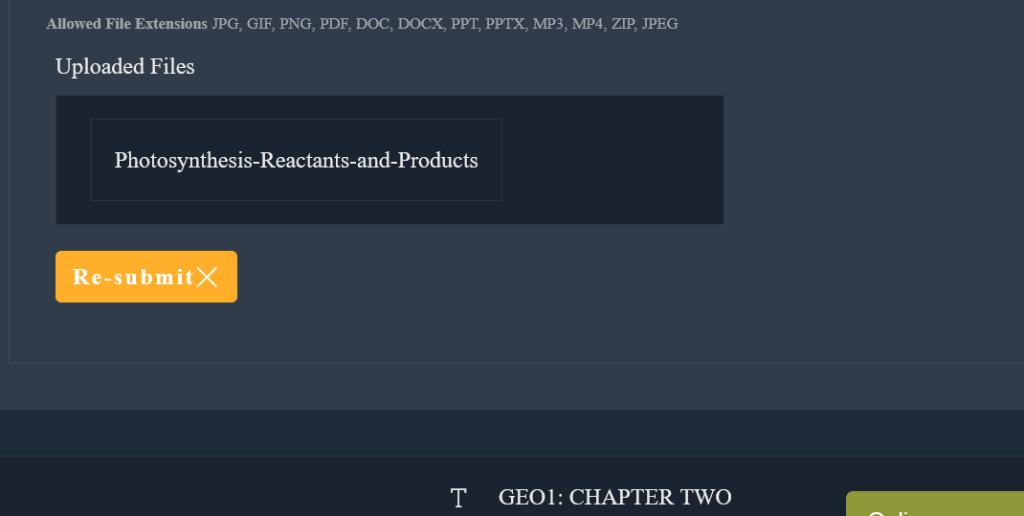 About Yaaka Digital Network
Yaaka Digital Network www.yaaka.cc, is a multi-award-winning learning and training platform offering online and offline learning materials input and access, interactions as well a set of tools for digitalising teaching and learning online and offline.
Yaaka is like www.coursera.com, Khanacademy.com , Udemy.com, EDX.org, but in addition to offering country and or particular institution relevant academic content and interactions, Yaaka is a four in one product for digitalising learning and teaching. It consists of:
The web app www.yaaka.cc where trainers and learners can signup for accounts to input and access learning materials in text, pictures, audio, video and graphics at their convenience on any gadget that can access the internet and a web browser. It is built as a market place of learning materials and a social network for learning with interactive features for groups, discussion forums, friendship, selling of courses, metered learning, quizzes, assignments, content drip feed, online and off line courses, live classes etc.
2. The Yaaka offline app: which enables people to access www.yaaka.cc as an offline app on their gadget so one can learn anytime anywhere without needing access to the internet. We can install (at a fee) Yaaka offline on any computer, phone or tablet of sizable memory (60GB, 4GB RAM).
3 The Yaaka tablet computer https://www.yaaka.cc/product/yaaka-tablet-with-uganda- syllabus-apps/ which comes with www.yaaka.cc pre-installed. People who purchase the Yaaka Tablet Computer can learn offline for free and go online as and where they choose.
4. Yaaka Plus for Institutions where we deliver a networked Yaaka installation for a fee to an education institution- which networked Yaaka can be accessed by any number of learners and trainers connected to the same LAN or wireless network at any campus/ learning venue(not needing internet). We can optionally provide low cost branded tablets for schools ($100) who want learners and trainers to access learning and teaching at a central location at the institution on digital gadgets as well as on an online (off internet) platform.
Additionally, we offer Yaaka DN as a mobile app https://play.google.com/store/apps/details?id=cc.yaaka.www.twa and provide world class digital pedagogy training in partnership with Makerere University https://www.yaaka.cc/course/dp-digital-pedagogy-for-teachers-lecturers-tutors-and-trainers/
We have the most comprehensive digital learning solution, the reason Yaaka DN has in the past three years been recognised in national and international awards, including UCC's Annual Communication Innovation Awards 2015, Tony Elumelu Entrepreneurship Foundation awards 2016 and the Africa Prize for Engineering Innovation 2017 (organised by UK's Royal Academy of Engineering UK).
We are unique because of our outstanding development of technologies that take advantage of digital learning and training beyond the internet, as the latter is a finite resource that can be 'stressed' with more users, especially at the same time- Technologies that transfer online technologies to offline access, and back online while maintaining interactivity.
We are looking for financing to improve our online and offline apps, to build a superior set of tablet computers and phones as well to undertake market outreach activities, including installing in government and private education institutions, providing online learning facilitation to subscribers or availing Yaaka content and learning facilitation free. We can with your help develop this product that is taking better advantage of digital technologies to provide better practically rewarding teaching and learning platforms and tools.
We as Yaaka/ Ultimate Multimedia Consult have a workplan for developing relevant academic materials in multimedia formats (text, audio, video, images, graphics, animation) as well as curate those relevant and available online for each African country that we avail both online www.yaaka.cc and offline tools for that particular country. We can explore other markets together.
As you can see https://www.yaaka.cc/unit/primary-seven-science-interactive- course/?id=10556 we employ creative multimedia content development and delivery and offer functional learning management see https://www.yaaka.cc/course/bio3-senior-three-biology/ where teachers put up courses, learners join courses and can study, be assessed and get awarded marks or even certificates or badges.
We are looking forward to working with you to power digital teaching and learning online and offline.